Sump Pumps: Installation and Repair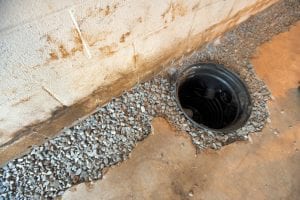 D-Bug Waterproofing installs many types of sump pumps for basements and crawl spaces.  These include battery back up sump pump systems, regular commercial grade sump pumps, and sewage grinder sump pumps (for residential applications). We also replace sump pump switches or floats (on pumps that enable the change). In addition, D-Bug Inc. has a one year warranty on new sump pumps, which is renewable after the year ends.  During the warranty period, we service the pump and clean the pit.
D- Bug Waterproofing installs sump pumps in almost every interior French drain system. Sump pumps are common in homes today due to the fact that ground water is not permitted to enter into the sewage system.  Therefore,  installing a sump pump will pump the water up and out to a lead-off that carries the water away from the house and drains it to the surface.
Don't wait for flooding to cause catastrophic damage to your basement!  Make sure that you have a sump installed and in excellent working condition!  Basement flooding can be a costly and extremely stressful experience!