Your First Step Toward a Beautiful Basement
Water leaking into your basement?
Are your walls cracked or bowed? Paint chipping? Is basement mold causing a health problem in your home?
At D-Bug Waterproofing, we know leaky basements are a big stress on home owners. From the first time you see water on the floor, you worry about the value of your home, the health of your family, and the expense of repairs.
Don't worry, we have you covered.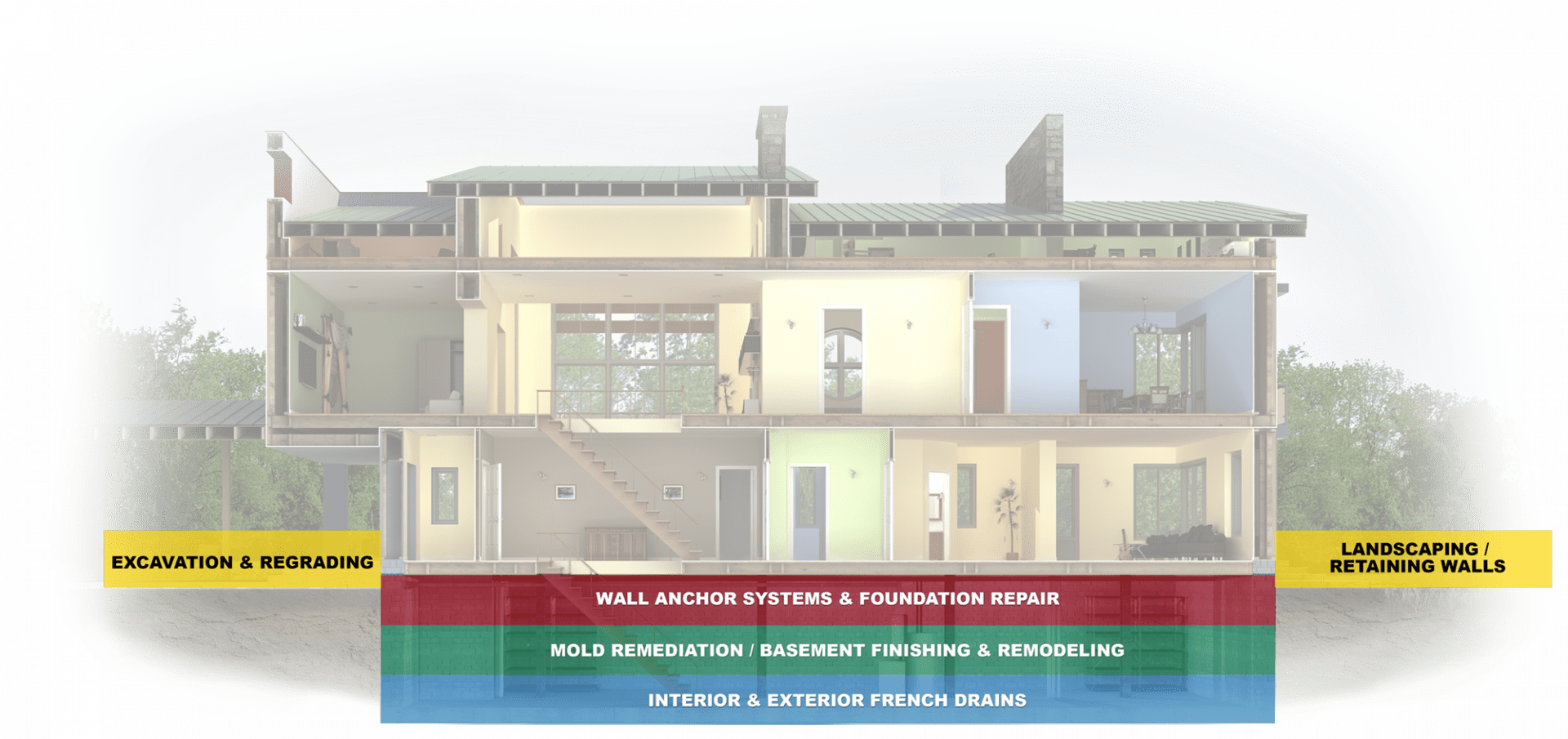 Located in Greensburg, PA, D-Bug Waterproofing has been serving families across the Pittsburgh region since 1939. We're family owned and committed to doing our best for our neighbors throughout Western, Pennsylvania.
Our comprehensive services can take you from a damaged, leaky cellar to a beautiful basement with one call.
Get In Touch
Call us today at 1-855-381-1528, or click one of the buttons below!
79 Years of Integrity, a 21st Century Approach
We have every technology to address your basement waterproofing needs in any season. With extensive experience dealing with Pittsburgh area basements and garages, you can have confidence that we will bring the best solution to your home's unique needs.
In addition to technology, we bring muscle.
Whether your waterproofing project requires heavy equipment or a large crew, we come onsite with the power to get the job done quickly and professionally, without leaving your basement a mess for weeks.
We get it done, and we get it done fast.
For a free evaluation and quote, call us at 1-855-381-1528, or complete our Quote Request Form.
Your Opportunity for a Beautiful Basement
Waterproofing your basement is an expense, but one that preserves and enhances the value of your home. When you call D-Bug Waterproofing, we can take it a step further. Let's refinish your basement!
Instead of the stress of a damaged, unhealthy basement, we can remodel and refinish all or part of your basement space with beautiful walls, ceiling, carpet, shelving, carpeting - whatever you need! We insulate the walls, add a vapor barrier, and provide for all wiring and plumbing needs.
After your basement is repaired, have it refinished. Your beautiful new space gives you a true sense of having made the right investment, an investment in comfort for your home and family.
Don't like high-pressure sales? Neither do we!
D-Bug Waterproofing is the place to call at 1-855-381-1528, or click one of the buttons below!