D-Bug Completes Job On-Budget and On-Time
At D-Bug Waterproofing, our commitment to arriving on-time, performing a meticulous job as described, and completing the project within budget is paramount.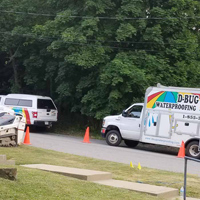 1
Steep Hills
The home sits near the top of a typically steep Western Pennsylvania hill, where putting heavy equipment into place is difficult.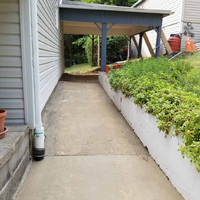 2
Narrow Path
In addition to dealing with a steep hill, the pathway to the work area was narrow and could not accommodate heavy equipment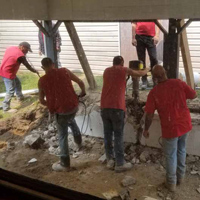 3
D-Bug Manpower
Getting enough manpower on site was essential to the success of this project, with its tight spaces and limited access.
At D-Bug Waterproofing, our commitment to arriving on-time, performing a meticulous job as described, and completing the project within budget is paramount.
We pride ourselves on delivering high-quality work and establishing long-lasting relationships with our customers. This case study outlines one of our recent projects – revamping a back porch patio and restoring a retaining wall for a homeowner in Southwestern, Pennsylvania, and highlights how we upheld our pledge of quality, punctuality, and budget-consciousness.
Project History: Incomplete Job/Growing Problem
In Southwestern Pennsylvania, many homeowners share a common experience – their property needs attention and restoration, but the process becomes delayed or disrupted due to various contractor issues. Our client in this case study had a similar problem. They had been waiting on another contractor who had under-quoted and over-promised, eventually failing to deliver on their commitments. For nearly two years, the homeowner was left in a lurch as the contractor failed to start the project, let alone complete it.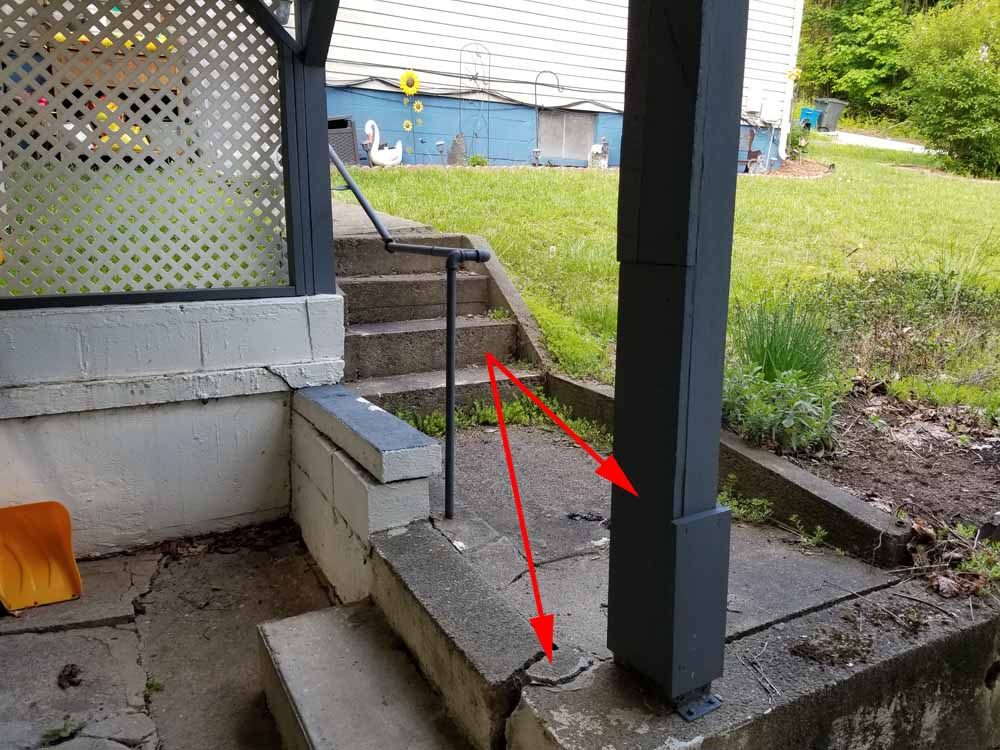 As time passed, the homeowner's problem worsened. At a glance, it appeared to be a straightforward challenge. The concrete work and the retaining wall, integral to the back porch, had significantly deteriorated over time. A few supports for the porch roof were resting precariously on a retaining wall that was increasingly pushed in by the soil pressure from behind. The block walls, which were providing support to the porch wings, had similarly deteriorated. The porch floor had developed cracks and sunken parts, forcing the homeowner to put a temporary support jack in place.
This was the scenario when D-Bug Waterproofing was called in.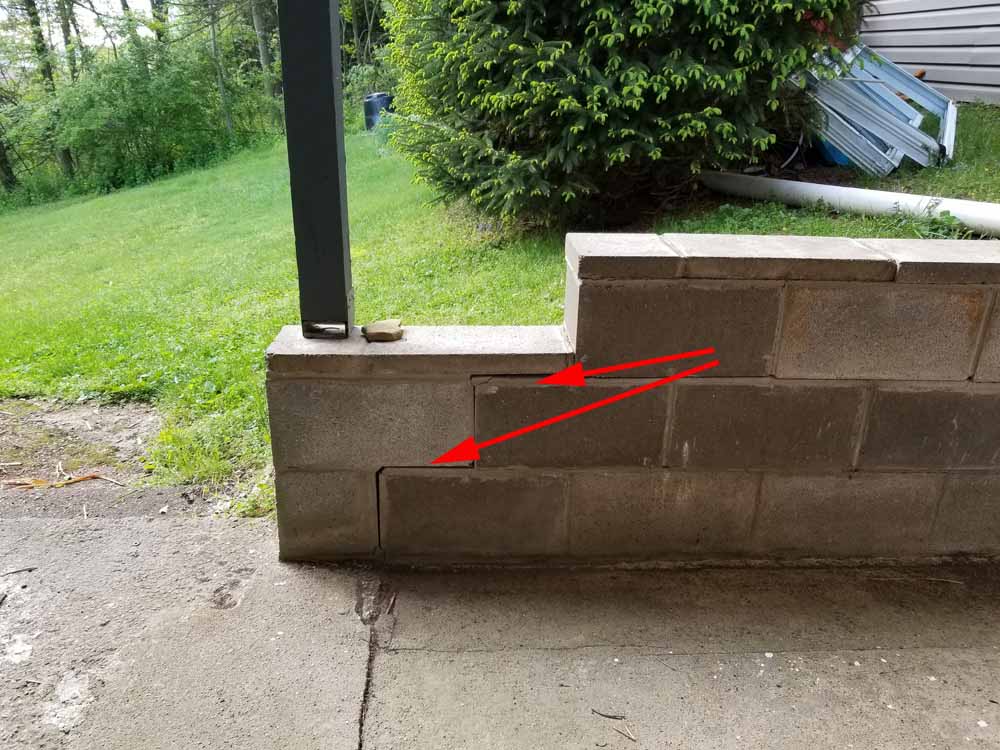 Choosing D-Bug Waterproofing for Concrete and Retaining Wall Work
D-Bug Waterproofing had been called to the rescue because of our proven track record with this client. A few years earlier, we had performed foundation repair and basement waterproofing for them. Even though our company name might not immediately suggest porch, patio, retaining wall, and sidewalk work, our client remembered the efficiency and quality of the job we had previously delivered.
They were confident in our capabilities and were eager to see if we could solve this problem too. And we were more than up to the challenge!
Understanding the Cause of the Porch Damage
Upon inspection, we realized that the porch damage had been a slow, gradual process that had accelerated in recent years. The original retaining wall was not set below the frost line, leaving it vulnerable to yearly freezing and thawing. The porch lacked proper drainage – there was no floor drain or a French drain to protect the support wall. Moreover, the original 4x4 supports for the porch roof had not been safeguarded against weather or insect activity, allowing termite damage and moisture to wreak havoc over time.
During our discussions about the concrete work – the primary focus of this project – the homeowner highlighted some issues with the soffit and fascia that they wanted repaired. We agreed to incorporate these additional repairs into our work plan.
Arrived On Time, Completed Work On Schedule, Project On-Budget
D-Bug Crew Manually Removing a Deteriorated 50 Year-old Concrete Retaining Wall
---
Because of the narrow pathway to the worksite, no more than a small steer skid could reach the back porch where the majority of the work needed to be done. D-Bug relied on old-fashioned muscle and determination to get the job done.
Like many other properties in Western Pennsylvania, our client's house was located on a steep hill. This, coupled with the position of the back porch, made it difficult to bring in heavy machinery. All the original concrete work, including a concrete sidewalk leading up to the porch, needed to be removed. However, due to the site's limitations, the biggest piece of machinery we could deploy at the porch was a hand-operated mini skid steer.
This situation necessitated substantial manual labor. Our teams had to use jackhammers, wrecking bars, and sheer determination to break up and remove tons of 50-year-old, rebar-reinforced concrete and concrete block. These fragments then had to be carefully loaded into wheelbarrows or the mini-skid and hauled away around the back of the house to our trucks on the street.
Project Execution: The Importance of a Sizeable, Skilled Workforce
Because of the site's challenges – a steep hill and limited access to the workspace – it was critical to deploy a sufficient number of workers to make progress on the job. A small crew of two or three would have taken weeks to finish the job. The only direct path to the work area was a sidewalk with the house wall on one side and a retaining wall on the other, further complicating the process.
However, at D-Bug, we were prepared to tackle this issue head-on. We initiated the project with seven or more people on-site, operating multiple jackhammers simultaneously and teams efficiently using wrecking bars. The original concrete and wall work, although damaged, had been in place for half a century and was rebar-reinforced. Therefore, breaking up all this material and quickly removing it from the site required an enormous effort.
Our work was not limited to removing the old structure. We needed to ensure that our foundation work extended below the frost line. Additionally, we had to arrange for drainage for the concrete on the porch and install a French drain for the new retaining wall. We meticulously planned for each day, intending to pour the concrete by Friday. This timeline allowed the patio and walkway to harden over the two-day weekend before our finishing crews returned on Monday.
Feedback from Homeowners - Scot & Jane Noel
"D-Bug's arrival on-site was an impressive spectacle. Multiple trucks, a large crew, and an assortment of equipment made their way up the road precisely at 7:00 am, as promised. They wasted no time getting to work. With jackhammers in action, there was bound to be noise and dust. However, D-Bug minimized the discomfort by completing this phase as quickly as possible.
Every day, there was a crew chief on-site, and the company owner dropped by several times to monitor not just the overall progress but also the minute details. His instructions included 'touching up the paint that got scraped', 'adding more soil filler over there', and 'planting some grass here'.
In six work days, they completed the concrete work, set up a new Versa-LOK retaining wall, and laid out new sidewalks. We couldn't have expected anything better. Every crew member was polite, respectful, efficient, and genuinely interested in doing a good job. This professionalism made the entire experience as pleasant as possible for us homeowners."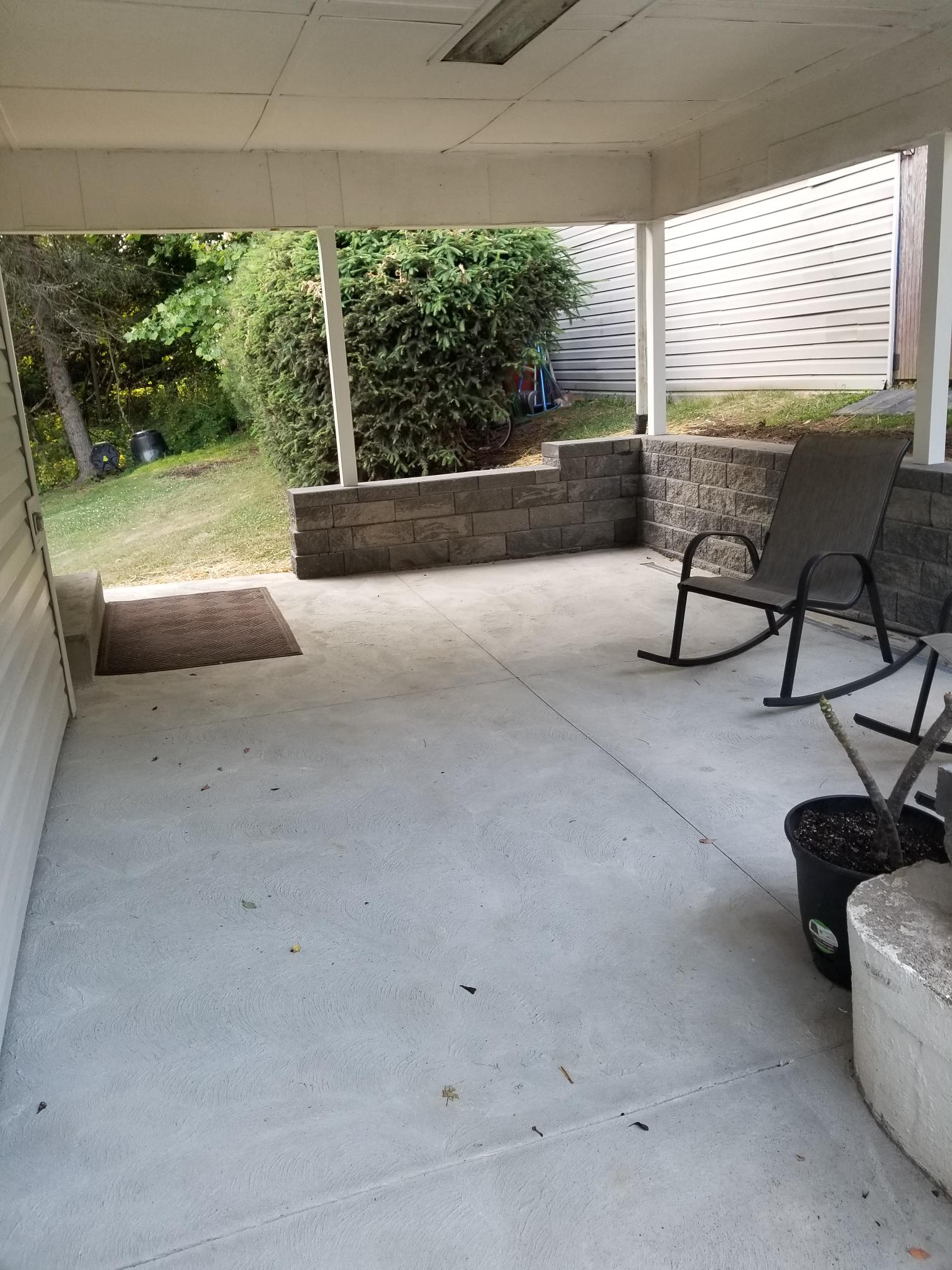 Contact D-Bug for Your Outdoor Space Redevelopment Needs
At D-Bug Waterproofing, we are ready to assist you in redefining your outdoor space. Whether you need a new concrete patio or driveway, or simply some concrete finishing, don't hesitate to get in touch. Call D-Bug Waterproofing at 855-381-1528 or contact us today.
About D-Bug Waterproofing
Established in 1939, D-Bug has been a locally owned and managed family business for decades. Nick Morrison Jr. and his team possess the knowledge and experience necessary to solve the most complex basement water and mold issues. With a 75-year family heritage, we have helped countless people in Western PA preserve the health of their families and the value of their homes.
D-Bug Inc. has been serving customers since 1939 and has been in the waterproofing business since 1984. We employ seasoned professionals and provide turn-key solutions ranging from excavation, French drains, and mold remediation, to basement remodeling and landscaping.
Our company is not a franchise or dealership, unlike other waterproofing companies. As a locally owned and operated business, we ensure long-term service. You will deal directly with D-Bug employees or the owner, Hugh (Nick) Morrison Jr. D-Bug Waterproofing is committed to delivering quality work, ensuring customer satisfaction, and providing excellent value for the services we offer. We only use our highly trained employees to service customers, and we are fully insured to protect you, the property owner.
(License #PA 017989)
See what D-Bug Waterproofing can do for your basement!
Give us a call at 1-855-381-1528, or visit our Contact Us page today!