Yard Drainage Problems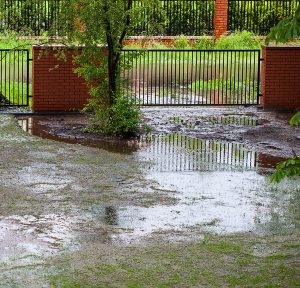 A yard full of mud is both unsightly and unsafe for homeowners. Yards pooling with mud and water could be a sign that your property has poor drainage or is in need of regrading. If you're tracking too much mud into your house after a spring rain, D-Bug Waterproofing has a solution.
Redirecting Water with Downspout Leadoffs
One way that D-Bug Waterproofing remediates yard drainage issues is through the use of downspout leadoffs. A downspout leadoff consists of a shallow ditch containing a three-to-four-inch pipe within it that connects to the downspout. It directs water from the downspout safely away from the home into a sump well, dry well, or storm sewer, depending on your township's drainage regulations.
Storm Drains and Catch Basins
D-Bug Waterproofing does much more than waterproof basements. A properly installed storm drain or catch basin stops the flow of water on your property before it can reach your foundation and find its way into your basement. Catch basins also improve yard drainage by collecting rainwater before it can pool up on the lawn.
Landscaping
D-Bug's Basement Waterproofing team is also skilled at yard landscaping and grading the area around a home's foundation. Changing the slope of the yard to direct rainwater toward the proper drainage systems may be the solution to stopping the excess water from pooling up on your property.
A new hardscaping feature may also be a solution to consider. The D-Bug Waterproofing team can create new concrete patio or walkway in the area to replace the muddy soil with a useful outdoor feature.
To learn more on how D-Bug Waterproofing can regrade your property, visit our page on Excavation and Grading.
Basement Water Problems
If your home's yard has poor drainage, the foundation of the home may be under threat.
Water that sticks around long after the rain lets up will often find its way you're your basement, where it has the potential to cause major damage. If your basement becomes water damaged due to poor soil drainage, D-Bug Waterproofing installs either an exterior or interior French drain to prevent future water damage. A perforated pipe around the exterior or underneath the walls of the foundation catches water and redirects away from the foundation or into a sump pump, where it is pumped away from your basement.
If your yard is muddy or has poor soil drainage, give D-Bug Waterproofing a call at 1-855-381-1528 for a free quote. We handle just about any water issue in or around a home's foundation walls.