BEFORE & AFTER GALLERY
Review before and after shots of D-Bug Waterproofing's expert work.
Don't trust just anyone to work on your home! At D-Bug Waterproofing, we're certain you'll be happy with our work. Check out our gallery of before and after shots to see the level of quality that we provide.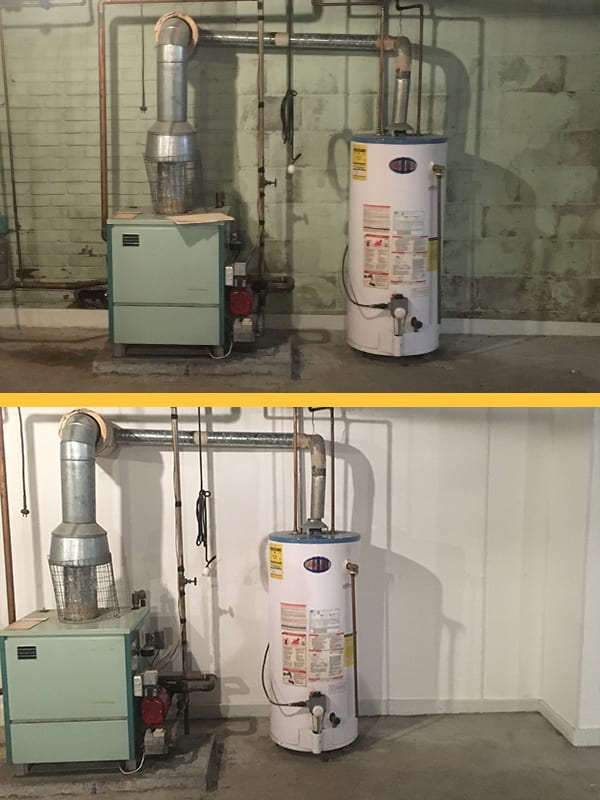 CASE STUDIES
See for yourself the difference that D-Bug Waterproofing can make to your home
Our customers trust D-Bug Waterproofing for their French Drains, Foundation Repair, Mold Remediation, Hardscaping, Excavation, and more. Check out our Case Study to see why!
DON'T JUST TAKE OUR WORD FOR IT
Trust in our references and the customers who love us
I wish I would have had this work done years ago! I have absolutely dreaded the mess that was going to be involved with an exterior French drain and internal sump pump. I cant believe how well everything was done and cleaned up. All of the work crew was polite and DJ provided daily updates, from scheduling to the actual work completed, DBug exceeded my expectations!! I would gladly recommend them to anyone. Also, I have never seen grass seed grow so fast!

Work on French drains (interior & exterior) was done in a timely & professional manner. The remodeling work was awesome!  Richie & Joe were fantastic and conscientious. Plus, both are really solid young men.

We were very pleased with the work done. the crew was courteous and friendly. It was nice to see how all the crew got along and worked well with each other. From beginning to end, clean up was fantastic. See you in the spring to finish up the sidewalks, Thank You for a job well done.

Work men were very polite & courteous. Cleaned up work site. I was very pleased with their job performance. I would definitely recommend your company.

Excellent work. The whole crew were hard workers and very courteous. They did a great clean-up job. Would not hesitate to contract with your company in the future or to refer to friends.

I was grateful you did my job in March rather than April. It relieved a lot of stress. Rodney was very knowledgeable and polite and he and his crew did a really good job. I would not hesitate to recommend your company.

Rodney & his team were exceptional! They were on time, worked well together to get the job done in a timely manner. They were all very respectful and cleaned up as promised. I will certainly refer your company to family and friends!

I used D-Bug to have a French Drain put in. Their crew was full of hard workers and not to mention they were on time! I was very happy with the price and the end result!

Our basement looks great. Job was completed as scheduled. All of the men were very kind & friendly. One of the men left a message on my phone concerning the finishing paint color. It was after 5:00 pm when I got back to him. He was very kind & helpful even though it was after business hours. Basement looked great when they left. Thank you, Thank you.

Was very happy with everything that was done, including clean up. Would recommend your company to anyone.

I cannot thank you enough for the work your company has done! It was done according to plan, on time, and efficiently as possible. Your workers were well trained and a pleasure to have in our home. :) Thank you so much - each one of you!

Glad I chose D-Bug to perform the services I needed. The crew called prior to arriving to let me know they were ten minutes late and would be there shortly. Very good attitudes- all 3 technicians. All questions I had were answered. Would recommend your services to anyone with a water problem.

The foremen and workers were very friendly, informative and professional. COMPLETELY SATISFIED!




Get In Touch
Call us today at 1-855-381-1528, or click one of the buttons below!