Healthier Air Means a Healthier Home
Protect Your Family with EZ Breathe®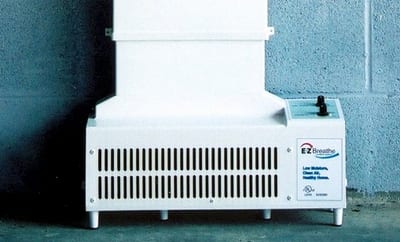 Is it possible the air in your home is unhealthy? Indoor air pollution is on the rise. According to the Environmental Protection Agency's (EPA) Report on the Environment, pollutants trapped indoors are often 2 to 5 times higher than outdoor concentrations.
Is this a health concern? Yes, when you consider that one of those indoor pollutants is radon, the naturally occurring radioactive gas that enters many Western Pennsylvania homes through their basements.
Other pollutants include:
Carbon monoxide from combustion sources such as fireplaces, wood burning stoves, and leaking chimneys.
Indoor pesticides, pet dander, and mold.
Ozone generated by some air cleaners.
Tobacco smoke.
Off-gassing of products from furniture and rugs, to building materials and cleaning supplies.
The end result can be anything from aggravated allergies to sickness caused by exposure to mold spores. Radon is now known to be the top cause of lung cancer among non-smokers.
An EZ Breathe Ventilation system, installed by D-Bug Waterproofing, is designed to rid your home of harmful moisture, humidity, and polluted air, as well as reduce radon levels by at least 75%. Call us at 1-855-381-1528, or visit our Contact Us page to request more information.
Newer Homes May Be Most at Risk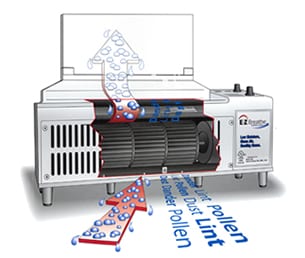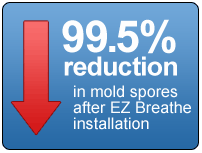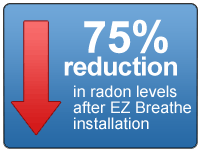 No home is immune to indoor air pollution and newer homes may be more at risk. The reason: they are better built, more air tight and energy efficient than every before. Better insulation and more advanced window and door seals not only make your home cozy, they trap air inside along with a variety of contaminants.
Winter is the worst season for indoor air quality, when all your windows and doors remain tightly closed for months at a time and little air circulation occurs.
At D-Bug Waterproofing, we know you can enjoy a pollutant-free living environment with the EZ Breathe® ventilation system. EZ Breathe® has become one of our most popular services, especially in winter.
How Does EZ Breathe Work?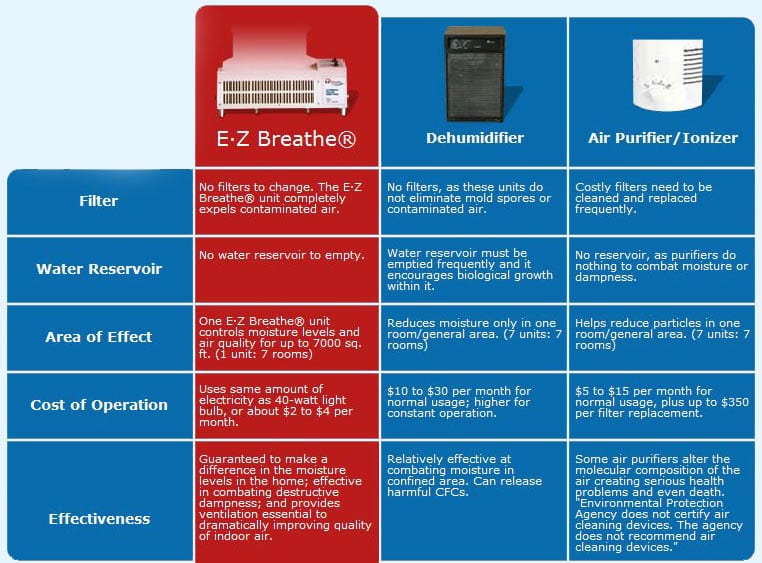 When installed in your basement, EZ Breathe® achieves whole home air exchange by exhausting stale air and all the contaminants and moisture that come with it. It draws in fresh air to replace the air being exhausted.
It's an impressive home ventilation system that protects your family with a 99.5% reduction in model spores and a 75% reduction in radon levels, and a 33% reduction in particulate allergens.
EZ Breathe® is better than a dehumidifier and can replace your air-purifier too. It maintains healthy humidity levels in your home for as little as $2-$4 per month, compared to up to $50/month running a traditional dehumidifier. And there is no maintenance, buckets to empty, or filters to change. The area of effect for one EZ Breathe unit is up to 7,000 square feet, while most humidifiers, ionizers, and purifiers effect only a single room.
The system is governed by a humidistat that cycles the unit on and off according to the desired humidity and fan speed settings, providing continuous comfort and peace of mind.
EZ Breathe's slim profile allows the unit to fit in most any space, from a living area, to a laundry room, to a crawlspace. It can even be installed behind drywall for a more finished look and provides ultra-quiet operation.
At D-Bug Waterproofing, we know more than almost anyone else about waterproofing and ventilating your basement; we're even experts and foundation repair and basement remodeling. Call us at 1-855-381-1528 or visit our Contact Us page today.