Retaining Walls Provide Stability
The temperamental weather of Pittsburgh winters has an effect on all of us, but nowhere is the effect felt more strongly than in your yard. From plants to trees to crumbling rock, freezing temperatures, strong winds, and heavy rain and snow can lead to soil erosion and deteriorating landscapes. Retaining walls are the perfect solution for giving your property the stability that it needs, as well as adding to its overall value. In addition, retaining walls offer additional benefits to your property, such as:

Why You Need a Retaining Wall
• Providing support to hold existing soil in place
• Prevents sink holes on property
• Prevents erosion of soil
• Helps to prevent flooding and soil saturation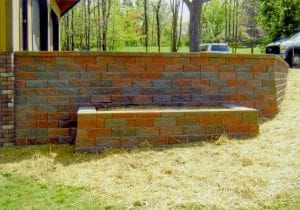 Retaining walls are meant to serve as protective structures, to hold in soil and prevent it from moving down slope, as well as providing support to the existing landscape. However, a retaining wall can also improve the overall look of your property. There are a number of materials in a variety of colors and styles that can complement your yard and provide a sense of design. Retaining walls can also be built with additional features that serve both a functional and aesthetic purpose, such as columns and steps.
Whether the main purpose of a retaining wall is for aesthetic appeal or for functional support, they are the perfect addition to any property, regardless of where you are located in Pittsburgh. Erosion can wreak havoc on your landscape and your property, causing damage that can cost thousands of dollars to repair.
Where Do You Need a Retaining Wall?
• Around the patio area
• Around a pool to provide a natural, decorative fence
• Around a garden area to provide a natural planting bed
• Around the base of a house to prevent flooding
Although there are a variety of looks that you can achieve with a retaining wall, a strong foundation is the key to it not only serving its intended purpose, but to a long life. That's where the experts at D-Bug Waterproofing come in. With years of experience installing quality retaining walls in and around the Pittsburgh area, D-Bug Waterproofing can help improve the aesthetic appearance of a property while providing a functional retaining wall that will stand the test of time! If your existing retaining wall is in need of repair or you are looking to have a new one installed, contact D-Bug Waterproofing today!