Fight COVID at Home with EZ Breathe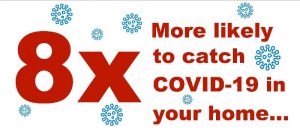 Is your home's air quality the best it can be? EZ Breathe Ventilation Systems installed by D-Bug Waterproofing can help keep your home's air healthy and fight infection from viruses, including COVID-19.
In a study that is a part of the Cambridge Corona Virus Collection, it was found that people were 8X more likely to catch COVID-19 in their homes, and the reason was poor room ventilation compared to commercial and medical facilities.
Air circulation also had an effect on how acute the illness was when a family member came down with COVID, as virus concentrations can become high in rooms with stagnant air.
Of course, it's long been known that improved home ventilation helps with reducing bacteria, mold spores, chemicals, allergens, odors, carbon monoxide, dust mites, radon, and much more!

Proven, Effective Ventilation
An EZ Breathe Ventilation System reduces the number of airborne particles in a home by up to 85% within the first 30 days of installation. For example:
The EZ Breathe A400 Basement Ventilation System:
Provides 6 to 10 Air Exchanges Daily
Exhausts Stagnant, Polluted Air
Expels Allergens & Asthma Triggers
Removes 85% of Airborne Particles
Low Energy Cost
Odor Removal
Reduces Humidity
Creates Healthier Indoor Environment
10 Year Manufacture Warranty
Watch this YouTube video on EZ Breathe Installation – https://www.youtube.com/watch?v=8Pn3lzuc_00&t=2s
Keeping Your Home Healthy
Ensuring that your home is equipped with an effective ventilation system greatly reduces the chances that a COVID-19 infected person in your home will spread the infection to others.
Additionally, EZ Breathe Ventilation Systems make your air healthier all around. It's simply a great investment in you family's health and comfort.
Upgrade Your Home's Ventilation with D-Bug Waterproofing
Unlike a traditional dehumidifier or air purifier, an EZ Breathe Ventilation System has no filters to change and no water reservoirs to empty. One EZ Breathe System is powerful enough to ventilate a whole house, uses less electricity than a traditional air filtration system, and is overall more effective.
Give your home's ventilation an upgrade with an EZ Breathe Ventilation System installed by D-Bug Waterproofing and set up an appointment today by calling 1-855-381-1528 or visiting our Contact Us page.