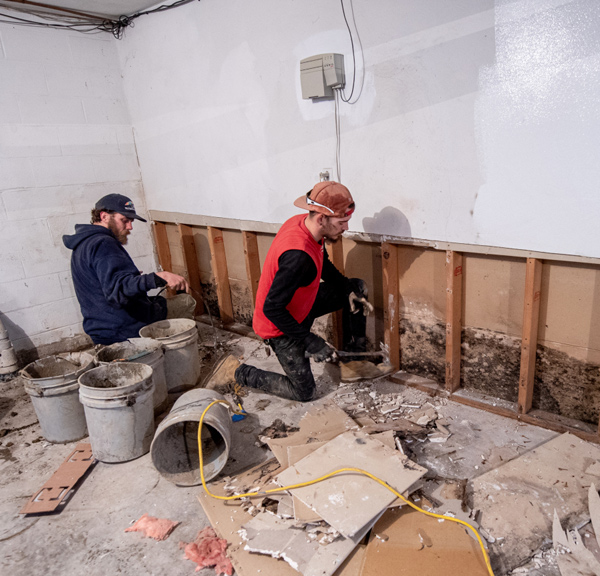 Make Your Basement Warm and Welcoming
June 22, 2020
Can Wall Parging Save Your Basement?
July 22, 2020
Everything You Need to Know About French Drains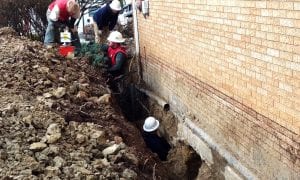 French drain systems are one of the most effective ways to waterproof a basement. With the use of pipes and trenches, they guide water away from your home's foundation and direct it safely away. The French drain installation experts at D-Bug Waterproofing know how to efficiently use landscape grading and plumbing techniques to waterproof homes. Read on to learn more about how French drains work, and how D-Bug can use them to keep your basement dry.
How Exterior French Drains Work
Every French drain begins with a trench, which is dug along the outside or inside of your home's foundation, depending on what the situation calls for. An exterior French drain is used to direct water away from your basement, preventing it from seeping through the walls and causing mold and moisture damage. It can also be used to drain areas of lawns and yards that have flooding issues.
Once the trench is dug, a perforated pipe is laid on a downhill grade inside of it, and the trench is filled with gravel. D-Bug's team uses levels to check and double check the grade to make sure it is properly aligned. In practice, the water will seep into the perforated pipe as it soaks into the ground, where it will be carried safely away from your home's foundation.
In order to further the effectiveness of our exterior French drains, we tar the exposed foundation walls with roof or flashing cement, and place rubber roofing and ¾ inch pink board along the bottom of the wall. We then fill the rest of the trench with gravel and cover up the dig site with grass, shrubs, cement, or whatever else you choose. No matter what it is, D-Bug makes sure your home's foundation and the area around it looks great and stays dry.
Learn more on our web page about Exterior French Drains.
How Interior French Drains Work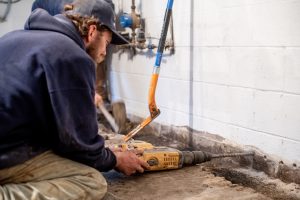 An interior French drain works similarly to an exterior French drain, except the trench is dug along a wall on the inside of your home's basement. If the French drain is interior, the pipe will guide the water into a sump tank, where a sump pump will push the water out of the tank and away from the foundation.
If your home has adequate outdoor drainage, but you are still having issues with water and mold damage to your basement, an interior French drain from D-Bug Waterproofing may be the solution for you.
Learn more by reading our Case Study – Interior French Drain and Foundation Repair.
Sump Tanks and Pumps
Sump tanks and pumps go hand in hand with interior French drains. A popular misconception about sump pumps is that a home with a sump pump is a bad sign – meaning that the basement is liable to flood often. In fact, the opposite is true. Sump pumps are an important component of any basement. Of course, no homeowner hopes they need a sump pump, but they are invaluable when it comes to basement waterproofing.
Sump pumps allow the water seeping into your basement to be safely pumped away from the foundation, preventing potential mold and water damage in the event of a basement flood. Getting a sump pump installed and making sure it is in working order could make the difference between a dry basement and a potentially expensive disaster.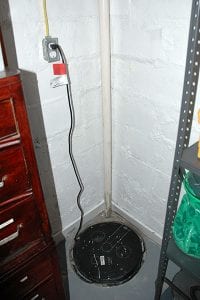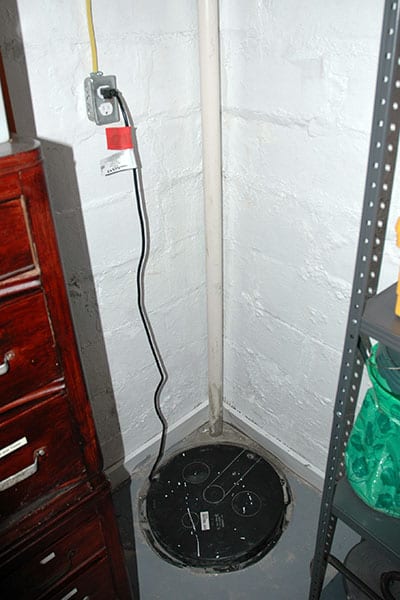 Best used for basements built on low-lying points below the water table, areas with poor soil drainage, and in regions with heavy snow or rainfall, sump pumps are the perfect solution for when completely preventing water from entering the basement is impossible. Our interior French drains guide water into a sump tank, where it is pumped away from your foundation by the sump pump. With over 75 years of experience, our team is the best at sump pump installation, repair and maintenance.
Maintenance and Upkeep
Already have a French drain or sump pump, but still having issues with water drainage? It's likely that your waterproofing safeguards are damaged or clogged. Soil erosion and mud can cause debris to find its way into your French drains. In the winter, water that accumulates in the pipe from snow melts can freeze inside the pipe and crack them. Dirt can also find its way into a sump pump connected to an interior French drain, clogging it.
Fortunately, D-Bug Waterproofing know how to solve these problems. Our team of experts use line cameras to inspect clogged drains for dirt buildup. Once we've identified the problem, we then excavate and fix problematic drainage systems and replace them or implement safeguards that prevent the problem from happening again.
D-Bug's French drains come with a lifetime transferable warranty. We service and maintain your drainage systems long after they are installed so that your basement stays dry for years to come. No matter how long it's been since the initial installation, D-Bug does it right.
The D-Bug Promise
Dealing with basement water damage can be a headache for any homeowner, but it doesn't have to be. At D-Bug Waterproofing, our team installs whatever type of drain will work best for your home's basement. Plus, our team comes with comprehensive services that can't be found under one roof anywhere else.
Our team knows waterproofing, basement refinishing, remodeling, and outdoor landscaping, making us more versatile than other basement waterproofing companies. To see a prime example of how an interior French drain from D-Bug Waterproofing transformed a homeowner's basement, visit our case study page on interior French drain and foundation repair.
To find out what other services D-Bug Waterproofing offers, visit our Services page or call our office for a free quote at 1-855-381-1528.