Concrete Driveways

Summer is a great time to complete that new driveway project. Are you considering asphalt or concrete? Both make fine driveway materials, but there is more to picking the best for your home than simply choosing the least expensive option.
What are the key benefits of a concrete driveway?
Curb Appeal
A well-finished concrete driveway has a high-end curb appeal, increasing the value of a home on any street. A new driveway can easily help pay for itself, adding $5,000 or more to the value of a house, depending on the size of the home and the property.
Your have more choices with concrete driveways too. Concrete offers more options that just "blacktop," with staining or tinting options available, as well as the ability to stamp patterns into the concrete.
Heavy Duty Use
Does your family have a camper? A boat? An RV? Concrete can handle the weight of your world with a much higher load bearing capacity. Where larger trucks and heavy vehicles may cause rutting in asphalt, the rigidity and durability of concrete have you covered.
Life Cycle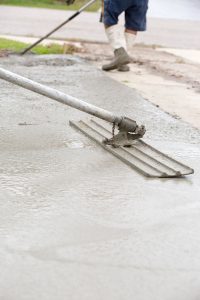 Asphalt driveways have a lower up-front cost to be sure, but a concrete driveway will last the average homeowner 50 to 60 percent longer. Asphalt is more susceptible to the power of the sun. It breaks down and changes color over time and will need resealed on a regular basis. Even with resealing, a concrete driveway is likely to last longer.
Hot and Sticky vs. Clean and Cool
Is your driveway going to be used by the kids in summer? Will you have to walk across it during the hottest days of summer?
The dark surface of asphalt absorbs sunlight and can get very hot as a result. The temperature rise can be enough to burn unprotected feel, and to get sticky oils on shoes.
In comparison, a concrete driveway stays relatively cool does not leach chemicals in the heat.
A concrete driveway is more durable than asphalt and more attractive than gravel. Concrete is easy to shovel in winter or clear with a snowblower too
Best of all, a concrete driveway will last for decades with the proper maintenance.
Make D-Bug Waterproofing your first call for a new concrete driveway, sidewalk, or patio for your home.
We go beyond just basement waterproofing. Our skilled technicians can do just about any basement or exterior home improvement project you desire, and if we can't, we will recommend you someone who will.
For more information on concrete driveways or concrete finishing in general, visit our page on Concrete finishing.
To get started, give us a call at 1-855-381-1528 or Contact Us on our website today.