Basement Entrances – Repair for Winter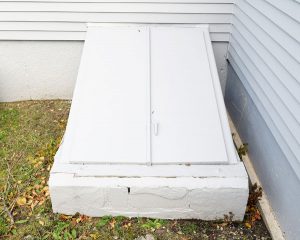 Fall is almost here, and winter isn't far behind. Is your basement entrance ready for the snow, ice, and freezing temperatures ahead?
In Western PA, basement entrances come in many varieties, from basement walkouts and classic Bilco doors to retaining walls and descending stairs. Entrances to your basement are one of the main ways that moisture gets in and heat gets out. Fixing your home's basement egress before winter hits can not only save you money on your energy bill, but it can also ensure your basement stays watertight all year long.
There is still time to get those repairs in during fall. Call D-Bug Waterpoofing at 724-838-5359; we are your basement experts!
Learn more by visiting our web page on Basement Egress Doors & Windows.
Why Repairing Basement Entrances Is So Important
When your basement Bilco door or egress windows are damaged, it creates a number of serious issues.
First, water gets in, which is damaging to basements. Moisture can cause mold and mildew to grow, cause deterioration to walls and carpet, and rot and decay of wood headers, joists, and sill plates.
Basement doors and windows that are in disrepair are also a highway for insects and rodents, and no one wants vermin to take up residence in the basement. Crumbling basement entrances can become a safety hazard. Someone who is trying to enter your home can more easily break in through a damaged door or window. Finally, being able to quickly get in and out of your basement can be critical during an emergency. You don't want doors or windows to get stuck and trap you in or out.
To put it simply, getting your basement entrances and windows repaired now before winter hits is one of the best things you can do to improve the value of your home and protect your home and your family.
Get Your Basement Entrances and Windows Repaired Before Winter Starts
It's not too late to prepare your basement for the winter. A new basement entrance or window can play a critical role in waterproofing and protecting your home.
We do specialty basement windows too! Call D-Bug Waterproofing at 855-381-1528 or contact us today.