Basement Egress Doors & Windows
Is Water Getting in Through an Old Entryway?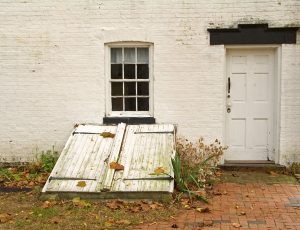 Does your basement have an exterior entrance? Aging bulkhead doors or utility windows?
When basements get wet, often the water is finding its way in through architectural penetrations, including doors and windows that have decayed and weathered over the years.
Attending to old basement doors and windows is important for several reasons:
Safety – quick and reliable basement egress should be a part of every home's emergency plan.
Security – worn or damaged doors and windows often provide a weak point in your home's security.
Water damage – aging basement doors and windows become pathways of least resistence to rainwater and runoff.
Mold – basement penetrations are likely to be wet more often and stay wet, resulting in unhealthy mold and mildew.
At D-Bug Waterproofing, we are experts in basement entryways and casement egress windows. We can replace worn and aging entrances and install new systems, excavating the soil away from your foundation and creating a new basement stairway, adding bulkhead doors, and more. Call us at 1-855-381-1528 or visit our Contact Us page today.
Installing or Replacing Basement Doors & Windows
D-Bug can install basement egress doors and egress windows in houses that don't even have existing basement entryways . First, we excavate to the footer, followed by cutting, framing in, and installing a steel door in your block basement wall.
Next, we install versa-lok walls on the side or sides of the door. Once the walls are built and stepped back into the hillside, a French drain system is established behind the versa-lok wall.
D-Bug Waterproofing prefers to install catch basins at the bottom of the basement entrance to catch debris before it enters the pipe. By code, the water from the catch basin and French drains are not permitted to enter the sewer-line. Therefore, a sump pump system must be installed in the basement to pump out the water. (If possible, a gravity flow lead-off is sometimes used to drain the water.)
Forms are built for concrete steps leading to your new door and a pad at the top and bottom, into which cement is poured. The steps may be constructed out of versa-lok, but D-Bug Waterproofing prefers to use cement for durability.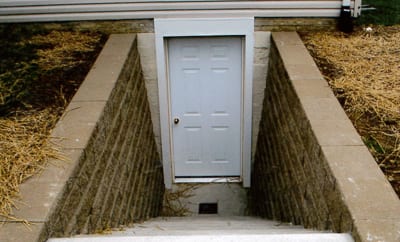 D-Bug Waterproofing removes old basement entrances that are pushing or decaying and replaces them with versa-lok block, concrete block, or poured concrete walls. We prefer versa-lok in this application because of the variety of colors and, with the versa-lok block stepping back into the hillside 1/2 to 3/4 inch every row, it provides a nice entrance way that widens as you walk up.
Another specialty at D-Bug is the installation of fire escape basement egress windows as well. This involves digging and installing a special made fire exit window that swings open for easy exit in case of an emergency. An egress well will keep dirt away from the window, and, in most models, the ladder is built right into the well. Then, we install an egress well cover to help keep out the water.
Basement Remodeling
At D-Bug, we do more than excavate. We offer full basement waterproofing and remodeling. if this is the year you want to invest in your basement, consider taking it all the way from a dark and musty storage space to a new family room or entertainment center. When you call D-Bug Waterproofing at 1-855-381-1528, you're working with a local, family owned service that provices affordable, reliable, and comprehensive waterproofind and refinishing for your basement.
You can learn more on our pages for Basement Waterproofing and Basement Remodeling.
Why Call D-Bug Instead of a General Contractor?
Western Pennsylvania is a land of hillsides, rain, and winter freeze-thaw cycles. These are the same forces that cause foundations to leak and basements to flood. At D-Bug Waterproofing, over 75 years of service and experience have taught us how to build with these forces in mind.
Retaining walls, driveways, patios — we know the best materials and the proven techniques to grade surfaces, build walls, install French Drains, and take all the actions needed to ensure you receive the most for your investment.
At D-Bug Waterproofing, we know more than almost anyone else about waterproofing and retaining wall systems. Call us at 1-855-381-1528 or visit our Contact Us page today.