Water in Basement from
Melting Snow & Ice
As winter temperatures rise and fall over the course of the season, the ground around your home becomes saturated with water, expanded by ice, and the pressure against your foundation can cause leaks in your basement.
Melting snow and ice, along with winter rains this year, may have started to make their way through cracks and worn seals around windows and doors. Before your basement becomes a home for mold and mildew, or you lose useful space to standing pools of water, call on the experts at D-Bug Waterproofing to keep your basement dry and free of mold.
The Damage Melting Snow and Ice Can Cause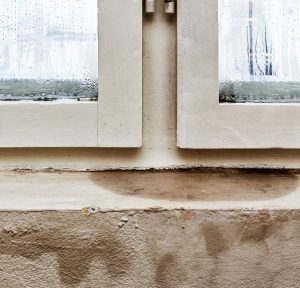 It's not just that melt water an find its way into foundation cracks, gaps, and openings, but when the temperature drops and that water refreezes, those cracks will widen and concrete and block will begin to crumble. Once the damage starts, you can expect:
Damaged floors. If you have carpeting, tiles, or laminate floors in the basement, even minor water incursions can cause floors to warp and bend, and tiles to loosen.
Damaged walls. Standard drywall and paneling absorb water, providing a foothold for mold and mildew. Rotting and warping of walls soon sets in. Electrical outlets in those walls can be in danger of shorting out too, cascading that damage to electronics and appliances, like your dryer and washer.
Damaged furniture and storage. Standing water is bad for furniture, rotting wooden legs and being absorbed into upholstery. Do you have boxes of keepsakes in your basement? Heirlooms, collectibles, and family albums can easily be destroyed when water and mold are allowed to do their damage.
Prevention Is Important
You should do everything you can to prevent your basement from being damaged by melting snow and ice. This includes:
Shoveling snow regularly — shovel snow as far away from your basement and foundation as soon as possible
Removing snow and ice from your roof — melting snow and ice can flow through your gutters to your basement and foundation, causing damage
Sealing cracks and caulking windows — water will seek out these cracks and entry points and make its way into your basement. Sealing these cracks is critical.
If your basement has already been damaged by melting snow and ice, you need to work with waterproofing professionals as soon as possible. The longer you wait, the more expensive the problem becomes.
When Prevention Fails, Call in the Experts
Preventative measures don't always work, and even the most protected basements can end up flooded during severe winter weather.
If your basement has flooded during the winter from melting snow and ice, you need to turn to the professionals before mold sets in and significant damage occurs.
Trust D-Bug Waterproofing with Your Basement
When you work with D-Bug Waterproofing, you're trusting your basement with a family-owned and operated business that has served your neighbors in Westmoreland and Allegheny Counties, waterproofing basements all over Southwestern Pennsylvania.
We can get the job done. To schedule your free inspection, visit our Contact Us page or give us a call at 1-855-381-1528.