Spring and Summer – The Season for Retaining Walls, Patios, and Sidewalks
The cold winter weather has given way to the warm sun, and it's time to get back outside and do some of that yard work you've been thinking about.
Now is the time to put in that new outdoor landscaping feature – but we know you want to enjoy the weather and make the most out of your weekends before next fall rolls around. D-Bug is known as an expert waterproofing company, but that expertise is precisely what makes us the best at installing retaining walls, patios, sidewalks, concrete driveways, and other outdoor hardscaping features.
Here are just some of the services we offer for outdoor home renovations and repairs.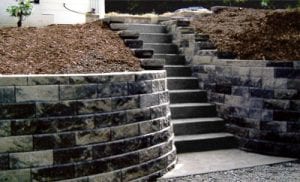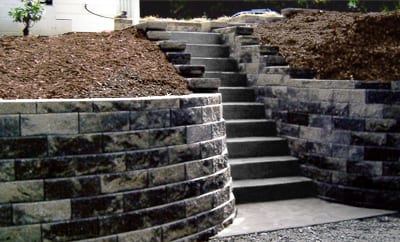 Retaining Walls
Landscaping walls can suffer damage from winter weather, especially from snow and ice freezing and thawing inside any cracks in the wall.
If you notice damage to your landscaping or retaining wall, call D-Bug Waterproofing.
We install brand-new retaining walls using Versa-Lok retaining wall block systems that will last for decades. Retaining walls are a great way to improve the curb appeal of your home while adding a functional outdoor hardscaping element that also improves soil drainage.
Patio Design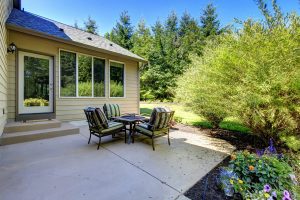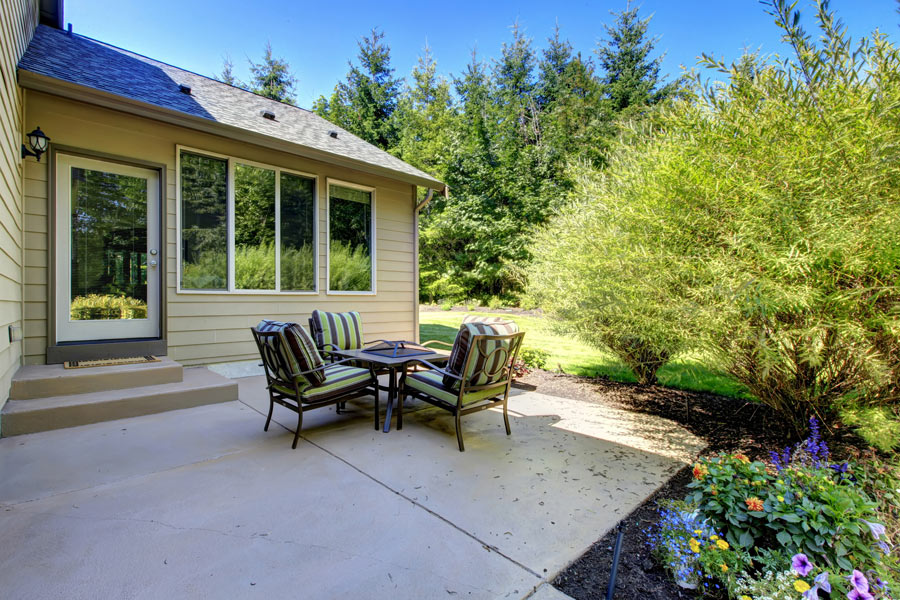 An outdoor patio is a great outdoor hardscaping feature that improves the usability of your yard by adding a great, unique entertainment space to your property. D-Bug's knowledge of waterproofing makes us the perfect candidate for installing your new concrete patio.
We regrade the landscape around the patio area to direct water away from the surface and prevent it from pooling up. The patios we install use durable Omni-stone that comes in a variety of colors to best match your home's aesthetic. We will help you create the perfect place for some new outdoor seating, a fire pit, or other outdoor entertainment space to help you make the most out of the warm weather.
Sidewalks
One of the many things D-Bug does with concrete is sidewalk installation. We will handle every step of the concrete finishing process, including:
Grading and excavating the dirt
Creating the frame and placing rebar
Mixing and pouring the concrete
Floating the surface, finishing, and edging
Pouring concrete is a difficult process that is easy to make mistakes with. Fortunately, our team's experience with basement waterproofing and repair makes us one of the best at the job.
Concrete Driveways
Just like sidewalks, D-Bug pours concrete for a new driveway, replacing your gravel or dirt one. Concrete driveways are easier to shovel during the winter months, improve the look of your home, will keep your vehicle cleaner, and have the potential to last 50 years and more with annual sealing and cleaning. A concrete driveway from D-Bug Waterproofing is guaranteed to last, and our team can finish the surface patten of the driveway with a broom and brush, swirl, or smooth finish to match your preference.
Outdoor Drainage Systems
D-Bug Waterproofing knows outdoor drainage better than anyone. Our knowledge of these systems is what allows us to build outdoor hardscaping features that last, without issues from water damage. A French drain is perfectly hidden behind an outdoor retaining wall, creating an external feature that is both functional and aesthetically pleasing. D-Bug contractors also lend their expertise to the installation of outdoor storm drains that assist with yard drainage. We will regrade the landscape to slope toward the storm drain and install the piping that carries the water safely away. With our knowledge of outdoor drainage systems, D-Bug will make sure that your patio, driveway, sidewalks, or retaining walls will not flood or be damaged by water.
Improving Your Home Inside and Out
A new patio, retaining wall, or other outdoor hardscaping feature will add value to your home and create and improve your outdoor space.
Whether you need to repair an existing feature or want to add something new, D-Bug Waterproofing's team of experts is equipped to tackle whatever you have in mind. Unlike other basement waterproofing companies, D-Bug goes beyond just basement and foundation repair to give you the most convenience when choosing a contractor.
We combine basement repair, outdoor hardscaping, concrete finishing, basement remodeling, home inspection, and outdoor drainage systems all under one roof to save you the hassle of finding other contractors for a variety of different jobs.
If we can't fix the problem, we will recommend someone who will. To get started, call us at 1-855-381-1528 or send us an e-mail by filling out the form on our Contact Us page. A team member will be in contact with you shortly about your free quote.