Retaining Walls and Exterior Drains
Holding Back the Elements
Western Pennsylvania is a land of hills, slopes, and steep inclines, and the Pittsburgh region is one of the best examples. We know that wind and weather work their magic every year, moving your property downhill whenever and wherever they have the chance.
At D-Bug Waterproofing, we work to keep your home and your property safe from the assaults of mother nature. For over 80 years, we've been serving your neighbors with foundation repair, basement waterproofing, and excavation and landscape grading.
Controlling water in all its forms is our business, whether its rain entering your basement, freezing ground cracking your foundation, or a part of your yard slumping into the street.
Retaining walls hold back soil where erosion is a concern, and by keeping your yard in great shape, they can help maintain and even improve property value.
Strength and Great Looks in One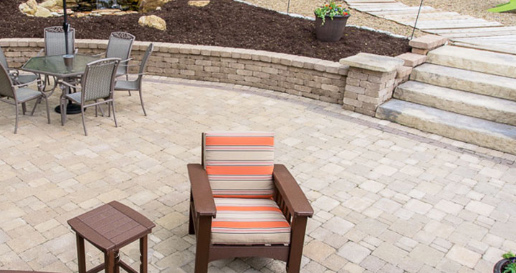 At D-Bug, we've chosen VERSA-LOK retaining wall systems as the best option for the homeowners we serve. To start, VERSA-LOK provides exceptional choices in color, texture, and size.  Even blended mixes and custom colors are available. Wall pieces come in different heights and widths, and blocks are available in both a traditional split-face texture and a natural weathered look.  VERSA-LOK advantages include:
Environmentally friendly, sustainable materials.
Straight wall facings, to discourage climbing and improve freeze/thaw resistance.
Free-draining wall face minimizes hydrostatic pressure.
Easy field modification, with no special units needed to craft special designs.
As a complement to our VERSA-LOK walls, D-Bug has selected Omni-Stone by OmniPro as the highest-quality paving stone to create walkways, patios, or sidewalks near your new retaining wall.
Experts in Codes and Drainage
At D-Bug Waterproofing, we've been installing retaining walls in Pittsburgh neighborhoods, including Allegheny and Westmoreland County for many decades. We work to meet all local and municipal codes, assuring that your retaining wall is properly engineered both for effective soil retention and the safety of you and your family.
We know that proper drainage is important to the life and effectiveness and structural integrity of your retaining wall. As needs we can install exterior drains, French drains, and catch basins to ensure that storm water never undermines your new wall.
Benefits of Retaining Walls
Improvement of home and property value.
Adding more curb appeal to your property.
Prevention of sink holes and soil erosion.
Support to hold existing soil in place.
Prevention of flooding and soil saturation.
One thing is clear, is your old wall is failing or weather and storm water are damaging your property, calling in the experts as soon as possible is the best way to save money and prevent advancing damage to your home.
D-Bug Waterproofing's expert team can handle retaining wall installation in any season. Call us today at 1-855-381-1528 to learn more.