Installation of E-Z Breathe Ventilation System
Have you ever considered the air inside your home?  Studies by the U.S. Environmental Protection Agency show that "indoor air is a minimum of five times more polluted than outdoor air." It's no surprise, then, that the Environmental Protection Agency ranks indoor air pollution as a high-priority public health risk.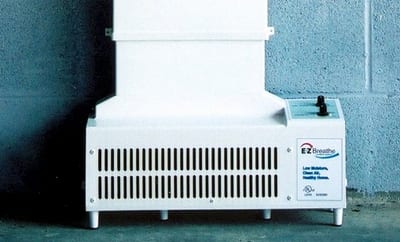 How did we get there? The energy crisis of the 1970′s called for new building codes requiring more energy and cost efficient homes. The end result was decreased air movement, changing from 15 cubic feet to 3 cubic feet of air movement per person per household. Unfortunately, these tighter building and remodeling practices have left us with a polluted, toxic indoor environment.
How do I contribute to this problem? Many indoor pollutants come from materials used in the construction process or from furnishings and chemicals brought into the home.  What's more, everyday living adds to the problem: showering, cooking, cleaning, doing laundry, and vacuuming; using hairspray, nail polish, paint, even petting the family dog—- all lead to a more polluted indoor environment, as these toxins have no way to escape the home. Moisture: another contributing factor. The resulting buildup of excess moisture leads to dangerous mold growth. The reality is that mold poses a threat to all of us. From costly insurance premiums to asthma and other respiratory ailments, mold is a growing problem, one that can be controlled by eliminating its source: excess moisture.Some ineffective methods used to try to eliminate the problem includes: (1) dehumidifiers = collect moisture/no ventilation, (2) air purifiers = recirculates the same air/creates ozone, (3) plug-ins and candles = masks the problem, and (4) open windows = brings in high humidity and pollutants.
What is the solution?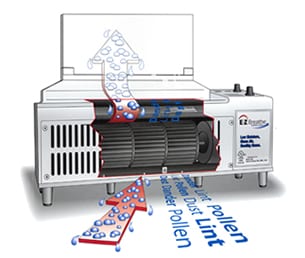 Call D-Bug Inc. today. The professionals at D-Bug Inc. are trained and certified distributors and installers of the E-Z Breathe Ventilation System.
For example, take what you know about dehumidifiers and air purifiers and then take it one step further. E-Z Breathe Ventilation System is designed to rid the home of harmful moisture, humidity, and polluted air. Not by re-circulating moist and stale air, but by drawing in damp, contaminated air and venting it to the outside. In doing so, this creates a complete air exchange up to ten times a day, providing a much-needed path of escape for the polluted air, and replacing it with clean fresh air.The E-Z Breathe Ventilation System is governed by a humidistat that will cycle the unit on and off according to the desired humidity and fan speed settings, providing continuous comfort and peace of mind, too. The system uses just 40 watts of electricity, costs on average $4 a month to operate with no maintenance hassles, compared to a traditional dehumidifier which can cost up to $30 a month to run.  Also, the E-Z Breathe's slim profile allows the unit to fit in most any space, from a living area, to a laundry room, to a crawlspace. It can even be installed behind drywall for a more finished look, and provides ultra-quiet operation. Call D-Bug Inc. today for a free estimate.