Make Your Basement Warm and Welcoming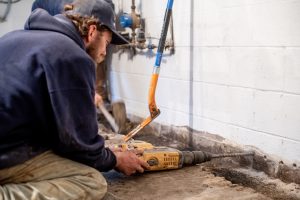 A refinished basement is a welcome addition to a home, and D-Bug can help make it a reality for you. D-Bug's waterproofing and remodeling experts turn your leaky basement into a welcoming entertainment space, starting with of our proven mold remediation and waterproofing techniques and finishing with our remodeling and renovation services. Thinking about giving your basement a face-lift? Here's how we get the job done.
Securing Your Home
Your home's foundation is crucial, but it is easy to neglect. Even though it keeps your home standing, ignoring water and mold damage is easy to do.
Waterproofing comes first. Whether you need an interior or Exterior French drain, a sump pump, landscape grading, or rainwater lead-offs, we handle it all.
The next step in refinishing a basement is making sure the walls are dry and mold-free. Not only does mold make your basement look unsightly, it also attacks and weakens the walls and wooden support structures in your home. D-Bug Waterproofing keeps mold from compromising your home with the use of vapor barriers and mold-resistant drywall that prevents the spores from coming back. Once we've taken care of the mold, there are only a few more steps to making your basement warm and welcoming.
Cozy Colors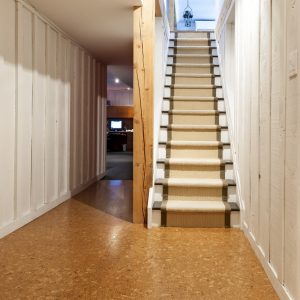 Bright white walls tend to make rooms look sterile and cold. Lighter colors such as creams or caramels can warm up a newly renovated basement. D-Bug installs new, mold-resistant walls, and paints them any color you desire. To create an inviting atmosphere, pick a lighter color that contrasts with the furniture and other accessories in room. This gives their fabric or patterns more emphasis, drawing eyes toward them.
Covering Up
Does your basement have exposed ductwork or pipes? D-Bug can cover them up by boxing them in with our mold-resistant drywall. We also install new drywall ceilings or drop ceilings to conceal the pipes and floor joists above.
As an added protection, D-Bug helps keep your newly renovated basement and your home healthy by installing an EZ Breathe ventilation system that filters out harmful mold spores and allergens, as well as serving to prevent Radon build up so common in Southwestern Pennsylvania homes.
If you are thinking about refinishing your basement, D-Bug can transform your cold, damp cellar into a warm living space. To find out how we can help, give us a call at 1-855-381-1528 or visit our basement waterproofing page to learn more.