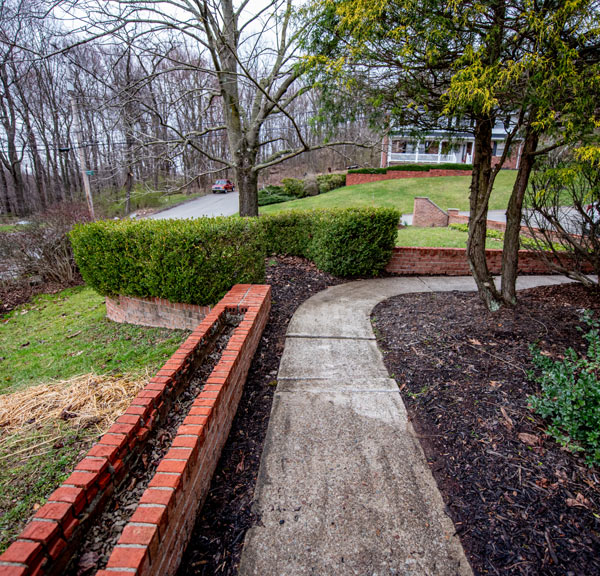 Let's Work Outside!
May 22, 2020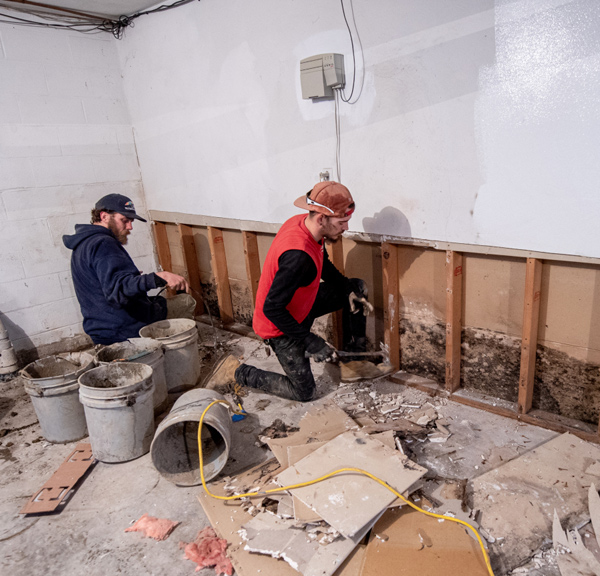 Make Your Basement Warm and Welcoming
June 22, 2020
It's Not Just What We Do,
It's How Well D-Bug Serves You!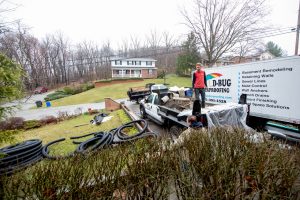 How can you tell D-Bug from our competition? We go beyond waterproofing and foundation repair, extending our expertise to high quality cement work, excavation, retaining walls, and other outdoor hardscaping needs.
We offer such a wide range of services because waterproofing takes more than a French drain; it includes how your yard is landscaped, whether rain gutter lead offs and storm drains are properly installed, how retaining walls are built, the slope of driveways and the positioning of patios.
You need a reliable service that knows how waterproofing affects your entire property! D-Bug doesn't hold back – we push ourselves to provide you with the best quality repair services and customer service in the industry. The customer is essential to us, and we take extra steps to exceed your expectations.
Visit our Spring & Summer Project Photo Gallery to see a D-Bug job in progress.
Our Promise
At D-Bug, we look to the future. We use high-quality materials that last long after the repair is completed – think decades. Thanks to D-Bug's maintenance program, the repairs come with a guarantee that the work is transferable to a future homeowner.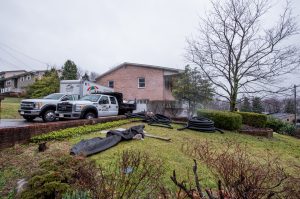 This extends the manufacturer's two-year parts warranty and labor costs, for however long the customer is subscribed to the program. Our commitment to long-term results is unparalleled.
Our Customers
You need not look far to find a satisfied D-Bug customer. For over three-quarters of a century, D-Bug has been serving and satisfying the needs of homeowners in the Pittsburgh region. With a host of satisfied homeowners, we can provide you with an extensive list of references as a testament to our customer service commitment.
More than Foundations; More than Basements
An ordinary basement contractor would do just that – basements only. However, we aren't just any other basement contractor. D-Bug's experts know they can take their knowledge beyond basement and foundation repair and apply it to a wide range of services, including cement work, patio design, and retaining walls.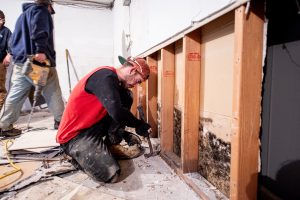 The work we do also keeps you and your family safe. A cracked or bowed foundation can compromise the structural integrity of your home. Even a small crack might seem like nothing at first, but the freeze and thaw cycle of a brutal winter can cause water to seep in, transforming a tiny fissure into a big problem. A team of D-Bug technicians will come well-equipped with the tools to repair your cracked or bowed foundation, such as the DynaPier foundation repair system and our steel rod wall anchoring systems.
D-Bug also keeps your air safe to breathe. Using the E-Z Breathe ventilation system, we reduce the amount of harmful radon particles in your home by at least 75% and mold spores by at least 99.5% after the installation of the system.
In addition to a ventilation system upgrade, our expertise in water control allows us not only to remove the mold but stop the water that causes the mold from ever entering your house again. We remove the moldy areas and any damaged materials, thoroughly cleaning and decontaminating the area with disinfectant spray. Once your basement is positively mold-free, we install new framing and moisture-resistant wall board in the walls, preventing harmful spores from coming back.
Mold spores and other harmful air particles could lead to long-term health issues for your family, such as aggravated allergies. Untreated mold spores in your home's basement could also lead to an increased risk for lung cancer if ignored. Fortunately, D-Bug knows how to deal with black mold.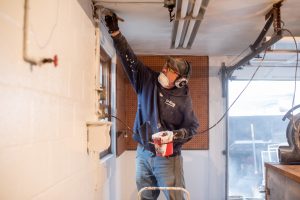 D-Bug keeps your family safe, no matter if you have a basement or not. We can even moisture-proof and disinfect a home's crawlspace to prevent harmful air from circulating through your home. Our French drains and mold cleaning techniques work just as well on home crawlspaces to prevent mold from seeping in.
Visit our Spring & Summer Project Photo Gallery to see a D-Bug job in progress.
Keeping You Dry
If you live in Southwestern Pennsylvania, there is a good chance your home is built on a slope or incline. Combine this with the heavy rainfalls we experience on a regular basis, and you have a recipe for foundation damage.
Fortunately, D-Bug has an arsenal of tools we use to help you weather the storms. A D-Bug downspout leadoff funnels water and diverts it away from your home. Of course, we have to take into account where that water will go once it is diverted. We don't simply direct the water straight into the ground. Our experts re-grade the landscape so the water flows safely away from your home and the homes of others. Whether it involves removing dirt or adding it, we will do what it takes to keep you and the others around you safe from water damage.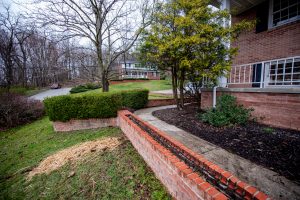 Installing French drains and catch basins is yet another way D-Bug keeps water from getting near your basement and keep your yard dry. Not only do we keep your basement and yard dry, we also beautify it by installing retaining walls that hold dirt in place and increase your home's "curbside appeal."
Using our knowledge of landscape grading and excavation, we can even take your outdoor home improvement projects one step further with our patio and excavation services. With warm weather on the horizon, now is the perfect time to complete the patio of your dreams with our assistance. With our water control and landscape regrading service, we help you turn your backyard into a more livable and eye-catching space for your family and your house guests.
Our Values
At D-Bug, we are a community-oriented business. For over 75 years, we have been serving the Pittsburgh region to create a healthier environment for everyone in our community. A healthy home means a healthy family, and many healthy homes make a healthy neighborhood. Our workers take all of the necessary safety precautions to get outdoor projects done safely and efficiently. Schedule a free quote by calling our toll-free number at 1-855-381-1528, or by contacting us on our website using the online contact form.
Visit our Spring & Summer Project Photo Gallery to see a D-Bug job in progress.