Retaining Walls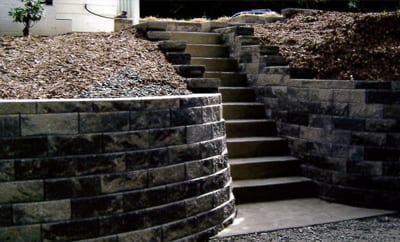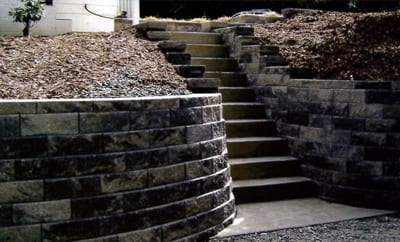 Retaining walls are walls used to secure hill sides, banks, or to improve the cosmetic
appearance of a home or landscaping.
There are many benefits of retaining walls, including:
Prevention of sink holes on property
Safeguard against soil erosion
Increased home value
Support to hold existing soil in place
Prevention of flooding and soil saturation
D-Bug Inc. uses the versa-lok block retaining wall system. We may also use other varieties of landscaping blocks as well, but we prefer versa-lok due to their size and weight. As long as the blocks are laid correctly and the French drain behind the wall is installed properly, the block wall will stay securely in place and can last a very long time. Versa-lok block walls can be built straight or curved. They can be used to make inside or outside corners and even steps.
When preparing to build a versa-lok block wall, a level surface approximately 16 to 24 inches wide is prepared. Secondly, 6 to 12 inches of modified gravel base is applied and tamped level. Next, we lay the versa-lok blocks, making sure each block  is level in both directions and with the block beside it. Every row of blocks is pined together and stepped back 3/4  inch as the wall is built stepping into the hillside.
D-Bug Inc. lines the hillside and the back of the wall with fabric. Then, we install a French drain pipe that is graded for draining any water that accumulates behind the wall. (It is crucial that this step is completed properly.) The wall gets back filled with sand stone gravel or river rock. Finally, the versa-lok wall gets a cap block positioned on top which is glued with versa-lok concrete adhesive to secure the cap in place.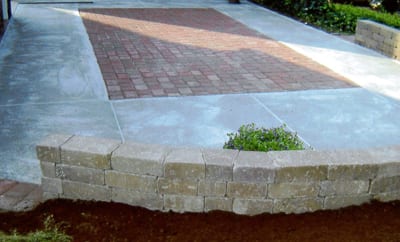 Versa-lok block may be purchased in a couple different styles but in a variety of colors. D-Bug Inc. uses versa-lok block for Basement Entrance Ways.
Omni-stone is a paver. They make a beautiful patio, side walk, or driveway. There are many different colors, sizes and styles. Eight to 16 inches of modified gravel is used for a base, then the omni-stones are placed. If omni-stones are installed properly, they make for a long lasting patio.