Storm Drains and Catch Basins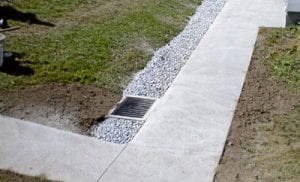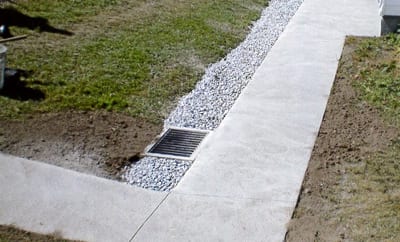 A catch basin is like a big floor drain.  The lead-off pipe exits the catch basin a couple inches from the bottom (depending on the size as to how far), this helps keep debris from entering the lead-off pipe. Due to this fact, a catch basin needs to be cleaned out periodically.
An outside surface French drain is a ditch dug 8 to 30 inches in depth. The ditch is dug and graded to the surface in the area where we want to drain the water. A surface French drain is designed to drain the water from low lying areas or catch run off water before it reaches the structure.   We haul off the dirt where the surface French drain is installed. Then, line the dig with a fabric to keep the dirt separate from the gravel. The fabric filters the water through and keeps the dirt out to prolong the life of the surface drain.
After the dig is graded and the fabric is in place, we install the French drain pipe. In most residential applications four inch pipe is sufficient. We then fill the ditch with gravel to grade level. However, most surface French drains require a lead off pipe. A lead off pipe is a solid pipe that is piped underground and graded to the surface in a desired location.