The basement, the cellar, the furnace room. No matter what you call it, these words provoke very similar thoughts and feelings among homeowners. A cold, dark, dingy space used to store forgotten items and seasonal furniture. It's a space that's mostly avoided or passed through, with its main purpose being to provide foundational support that goes below the frost line. Often, basements are used for little more than a place for the furnace, a laundry room, and storage of little used and forgotten items.
Basements don't have to be this way.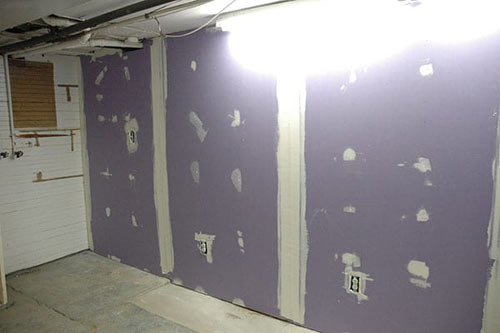 If your basement is unfinished, it can be hard to picture it as welcoming and fun. But with the right steps, basements can be transformed into warm, inviting spaces that you'll want to use. With the number of people working from home on the rise due to COVID-19, more and more homeowners are taking on home remodeling projects. After all, it is where we're spending most of our time now. Even though basements are often overlooked, they are the perfect candidates for a home office, workout space, entertainment center, or guest bedroom.
Transforming your basement from a cold, damp storage area into a fully furnished room may seem like a daunting task, but it doesn't have to be. With D-Bug Waterproofing on your side, we handle the entire restoration and refinishing process, no matter what condition your basement is in. Not many basement waterproofing companies also refinish, but we do, and we do it right.
Where we start depends on your needs, though even a basement with severe foundation issues can be rehabilitated by D-Bug.
Repairing the Foundation
It's easy to neglect your home's basement. Basements can be dark, uninviting spaces whose purpose is mainly structural, supporting the upper levels of the house and doing nothing more. The truth is that your home's basement is actually the most important part of its structure. A cracked, bowing foundation not only looks unsightly, it can be dangerous!
The shifting of displaced soil and water runoff can push against a home's foundation, causing it to crack and bow. When a foundation cracks, more water can seep into the basement through the new fissures. Even worse, winter temperatures can freeze the water inside the cracks, worsening the damage to your foundation.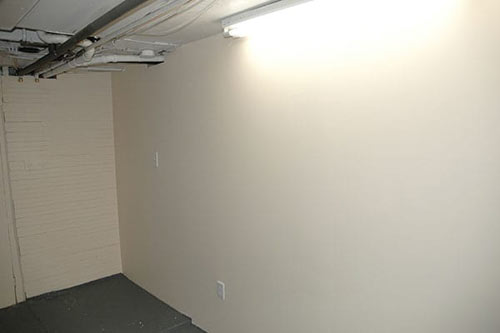 This allows more water to enter the home, along with mold spores, dust mites, and pests such as termites to enter your home and cause damage.
D-Bug's team fixes cracked and bowed foundations through a variety of techniques, including interior French drains, wall anchors, and steel support beams. We can install sump pumps and drains, moisture barriers, and mold resistant walls.
Once the supports are in place, we cover up the remaining cracks with waterproofing cement, further insulating them from future damage. Once the foundation is secure, our team can then begin the remodeling process.
Mold Remediation and Ventilation
Perhaps your basement is in relatively good shape, but in Southwestern Pennsylvania, even a square and solid basement can have mold and mildew or suffer from a buildup of dangerous radon gas. At D-Bug, we have the experience and all the latest technologies to remediate mold, properly ventilate your basement, and control humidity.
A healthy basement leads to a healthy home. Building structures breathe from the ground up, pulling healthy or unhealthy air up through every room in your home through the "stack effect." At D-Bug, we can make sure that air is free of mold spores, allergens, and radon gas. We can assure the humidity level stays below the trigger point at which dangerous molds can grow.
At D-Bug Waterproofing, we work with only the best EZ-Breathe ventilation systems and Sante Fe dehumidifiers.
These measures not only eliminate odors and dankness, they make your basement a pleasant space to live, play, and work.
Finishing Your Basement
Once your basement is dry and sealed, you can take the next step toward making it a true part of your home. Unlike other basement waterproofing companies, D-Bug Waterproofing also refinishes your basement, transforming it into another living space, game room, or anything you wish. Our dedicated basement remodeling team works with you to create the ideal basement for your home.
Turning your basement into a finished room adds value to your home and increases its livability. A basement is the perfect place to add an exercise room, entertainment center, or even simply extra shelves for storage. Unlike other basement repair contractors, D-Bug can both repair and remodel your basement, leaving it looking even better than before. There's no need to hire multiple contractors, since D-Bug does it all. From installing new floors to wiring new ceiling lights, D-Bug can transform your basement into a livable space that you will want to use.
Ready to begin your basement transformation? Give us a call at 1-855-381-1528 for a free quote. Your basement transformation begins with us.