Moisture Proofing: Crawl Space
D-Bug Inc. moisture proofs and seals crawl spaces. Most people don't think about their crawl spaces, but most crawl spaces in homes aren't sealed properly. An unsealed crawl space that is wet or damp invites the growth of mold and mildew that grows on the floor, joist and walls.
Exposure to mold from a crawl space can cause many health problems, ranging from coughing, wheezing, and eye irritation to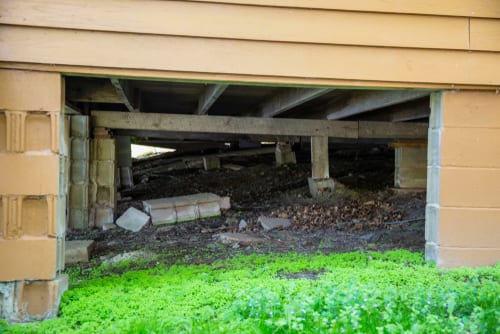 obstructive lung disease. You don't even have to enter your crawl space to be exposed to mold. Air in your crawl space travels through your home, by way of the stack effect. When that warmer air rises, it carries all the particles in the air with it – such as crawl space mold.
Due to changes in the weather and temperatures, the old method of installing vents in a crawl space lets in too much moisture.
D-Bug Waterproofing seals the crawl space. Then, if there is a water problem in the crawl space, we install an interior French drain system. It is important to eliminate the water or moisture that is causing the mold. To accomplish this, we seal the floor and the walls of the crawl space sealing the top of the double bubble poly at the seal plate of the foundation. This eliminates any moisture coming from the ground. When this is completed, the mold remediation is done. The floor joist are scrubbed with mold cleaner, then treated with a mold retardant.
In some applications D-Bug Waterproofing installs an E-Z Breathe Ventilation system to circulate the air flow in the crawl space of the house.
D-Bug Waterproofing also excavates crawl spaces to create a basement for additional living space in a home. This requires digging out the space and pouring cement retaining walls to support the existing foundation walls. Then a cement floor is poured for the basement.