Downspout Leadoff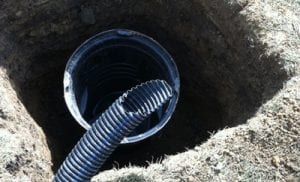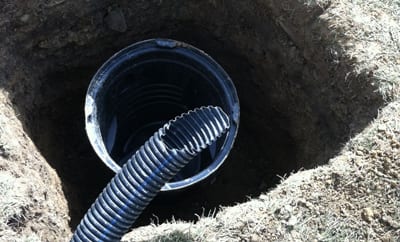 Downspout lead-offs are a 3 to 4 inch pipe that runs under ground from the downspout on the house to the outside surface. Its function is to drain the water away from the house. It consists of digging  a shallow ditch 6 to 24 inches deep (depending on the terrain). D-Bug Waterproofing grades the lead-off out to the surface and away from the house or dwelling. In some situations, we have to install a gravel pit sump well.
Sump wells are needed due to grading issues or by code enforcement in certain townships.A sump well is a hole that is dug about 3 to 4 feet deep and 3 to 4 feet across. We either install a sump pit or a 12 to 24 inch pipe with holes. The function of the holes is to let the water drain or seep into the ground.
Next, the hole around the pit is filled with gravel.  Then, a layer of  fabric is placed over the gravel, followed by 4 to 10 inches of dirt used for planting grass. Certain townships require sump pumps to drain into sump wells, while other townships require both the downspouts and sump pumps to drain into the sump wells. Code would be enforced following the specifications of your particular township.